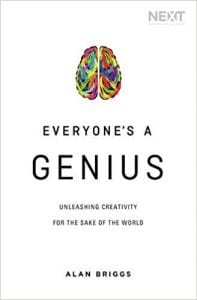 "Alan Briggs challenges our modern view of creativity and calls the church to be a force in our communities. This book will inspire you to take the risks you've been avoiding."  Mark Batterson, pastor and bestselling author of The Circle Maker
"Stop being pulled into comparison and competition by reading this terrific book"  Greg McKeown, consultant and bestselling author of Essentialism
Everyone's a Genius helps you…
Discover what you and those you lead are uniquely wired to do
Recognize the dangers of comparison, competition and creative leaks
Create a culture of leadership development in your church or company
Release more leaders into their areas of gifting
Reframe The Great Commission for modern times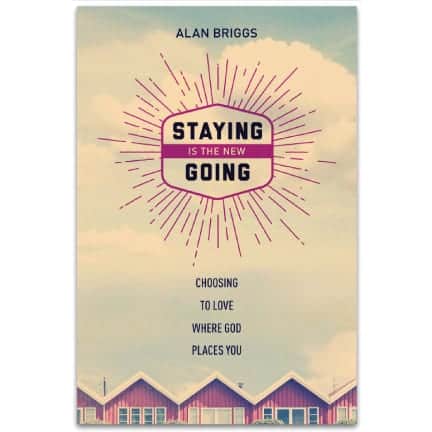 Buy the Book!
"Read the book you hold in your hands right now. It might change everything by calling you not to change a thing."
Michael Frost, Missional Entrepreneur and author
"Simple and on point. The relevance of local churches in the West rests on these principles." Dave Runyon, bestselling author of The Art of Neighboring and city catalyst
Staying is the new Going helps you…
Recognize the serving opportunities right under your nose
Challenge the paradigm of going somewhere else to serve God
Strategize ways you and your family, church or organization can serve your neighborhood and city
Release more leaders into fulfilling service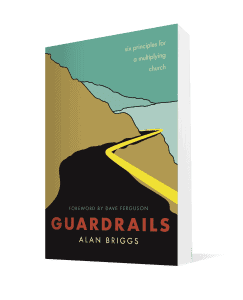 "I wish we had had those six principles to build upon twenty years ago." Dave Ferguson, Director of Exponential and bestselling author
"This book is a foundational and profound reminder that the effectiveness of the Gospel in our time hinges on our capacity to disciple the nations." Alan Hirsch, bestselling author and founder of Forge Mission Training Network
Guardrails helps you…
Define crucial terms like discipleship, leadership and multiplication
Create new metrics for your church
Discover ways to spur on discipleship, leadership development and church planting
Build a team culture in your church or ministry
Simplify discipleship processes and leadership systems
Alan is available to speak about his books and other topics. Here is the Speaking Request Form.